After years of research into team performance within the workplace, Belbin identified nine different Team Role behaviours.  The most successful teams were not necessarily those with the most intelligent people, but rather those with all of the Team Role behaviours present.
An Individual Belbin Report identifies which of the nine Team Role behaviours the people within your organisation prefer to behave in and which they prefer not to.
A Belbin Individual Report will:
Quickly identify an individual's key strengths and weaknesses
Show how their self-perceptions differ from how they are perceived by their colleagues
Contain personalised guidance for the individual about how to manage their behaviour at work and how to make the most of their Team Role contributions
Provide guidance for line managers giving insights into preferred ways of working and the environment in which an individual will thrive
Suggests working styles that may be suitable for that individual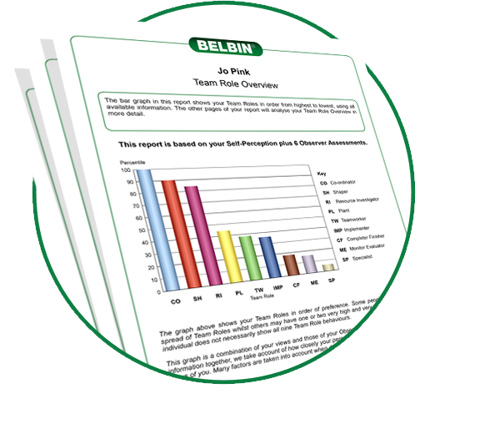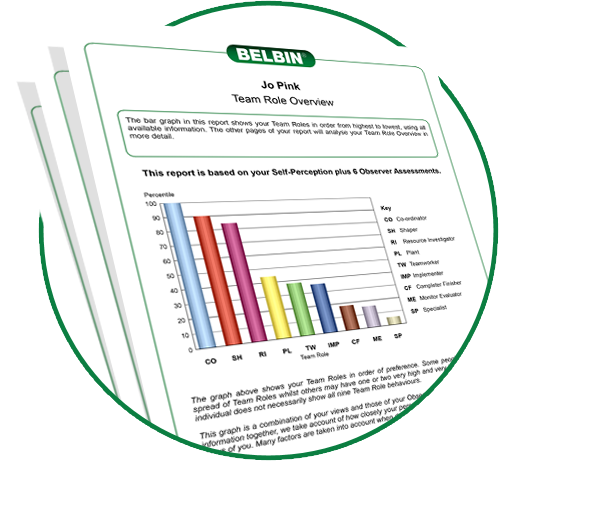 Sample of an Individual Report containing both the Self Perception and the Observer feedback to give the full 360 perspective
The Reports are quick and easy to generate
The whole process takes place online and is quick and easy to use.  The individual that you want to create a Belbin Report for needs to complete a short questionnaire that takes around 20 minutes.  Once they have done this, a Belbin Report is generated immediately based on their own self-perceptions. The individual can then ask up to 6 of their colleagues to input into the Report.  This is done via the Observer Assessment, which takes no more than 5 minutes.  Once at least 4 of their observers have fed back a full Belbin Report is then generated that includes their Observer feedback too
Belbin is affordable
With prices starting at just £42 incl. VAT for a one-off Individual Report, with discounts available when you buy larger volumes.
You do not need to be accredited to use Belbin within your organisation
Throughout the Report guidance is given about how to use and interpret each page so that both you and the Individual concerned can get the most out of it.