The Belbin Individual Report analyses an individual's contributions in terms of the nine Belbin Team Roles, offering advice and guidance on how they might work best, announce their preferences to others and cultivate latent talents.
Identifying our behavioural styles is the first step towards increasing self-understanding and building more effective working practices. Each individual needs to understand their key strengths and how to articulate how they prefer to work. This increases employee engagement, allows managers to allocate work more effectively and builds mutually beneficial working relationships with colleagues.
What will a Belbin Individual Report offer?
A Full Belbin Individual Report offers in-depth, personalised advice and guidance, designed to help individuals:
Identify and promote their behavioural strengths, increasing engagement and allowing the individual to work to their full potential
Acknowledge and develop strategies to minimise any weaknesses associated with their Belbin Team Role behaviours
Gain an understanding of how others interpret their behaviour, analysing any differences in perception and exploring potential reasons for these differences
Consider how they might best present themselves at interview or in selection processes
Reflect on their optimal working environment
Articulate their preferred working styles, so that managers and colleagues can delegate and collaborate more effectively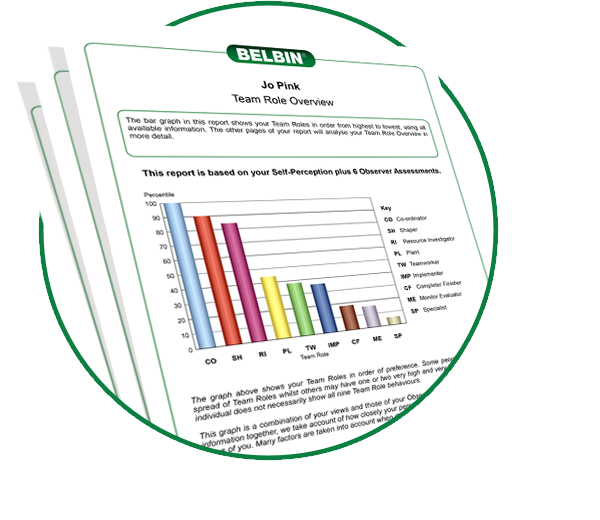 This is generated once an individual has completed their on line questionnaire and contains a Belbin profile, guidance and advice based on how the individual sees him or herself.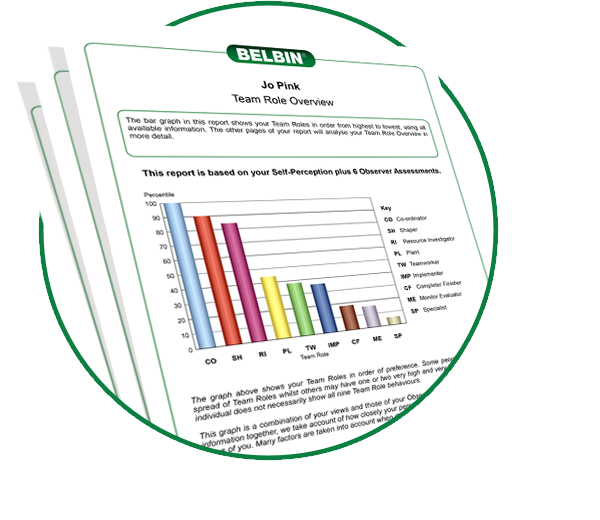 Once an individual has received Observer Assessments back from at least 4 Observers, their report is upgraded to a Full Individual Report that shows how others view them compared to how they view themselves.
What do I need to do?
To receive a Belbin Individual Report, individuals must first complete the Belbin Self-Perception Inventory (SPI). This is an online questionnaire which takes 15-20 minutes to complete.
We encourage individuals to request Observer Assessments too, to ensure a well-rounded picture of their Belbin Team Role contribution, which takes others' views into account. Observer Assessments are included free of charge with purchase of the Belbin Individual Report. Once at least 4 Observer Assessments have been added, a Full Belbin Individual Report is produced, comparing an individual's perception of their own behaviour with the views of others in the team.
How can I get Belbin Individual Report for myself?
A Belbin Individual Report will identify which combination of the nine Belbin Team Roles you exhibit. It costs just £42 inc VAT.
Completed online, it is a straightforward and easy process:
Fill in an online questionnaire - it takes around 20 minutes to complete.
Within minutes, you'll receive your Belbin Individual Report, showing you which combination of the nine Team Role behaviours you prefer based on your own view.
Your Report will contain personalised guidance and advice.
To make your report even more complete, you should ask six other people to share their observations of you via a quick five-minute online questionnaire. (We call these Observer Assessments, and they're free when you buy your Belbin Individual Report.)
Once you have received at least four Observer Assessments, we will upgrade your Report, free of charge, to a full Individual Report which will show how others view you, compared to how you see yourself.
Click here to purchase.
How can I get Belbin Individual Reports for my team?
Each Belbin Individual Report costs just £42 inc VAT and can be purchased directly from this site with a credit card. Discounts apply if you order more than 50 Belbin Reports in one transaction. Please let us know if you would like more than 100, as there are other options available.
If you would prefer to be invoiced, or would like a quote before you purchase provide the following information in the box below, we will get in touch the same day.
How many people you would like to 'Belbin'.
How many Observer Assessments you would like to add - we recommend six, a minimum of four is required for a Belbin Full Individual Report.
Where you would like the generated Belbin Reports sent: to you, the individual, both?
Would you like to add a Belbin Team Report (£75 + VAT each)?
Where to send an invoice! 
 We look forward to hearing from you!