With the only constant in the automotive industry being change, Dongfeng Nissan has to remain at the forefront of working practices to maintain its place in the industry amidst fierce competition.
Dongfeng Nissan Passenger Vehicle Co., Ltd. was established on June 16, 2003, as part of the Dongfeng Motor Co., Ltd. The primary goal of Dongfeng Nissan's human resources management is to build an excellent team. To this end, the establishment of Dongfeng Nissan University helps companies build high-standard hardware platforms for the industry.

Dongfeng Nissan University developed the Oscar training camp, consisting of real business teams which conduct various training and practical tasks around six learning modules. Launched in 2016, the camp achieved excellent results. It was highly praised by participants, business leaders and training professionals, and soon earned accolades for best training practice and best learning project in Dongfeng.
Background of the project
Dongfeng Nissan University runs a certification system designed to develop individuals day by day. The company provides employees with a wealth of training and development opportunities to help their personal growth. However, they also acknowledge that employees exist within the team context, and that team atmosphere, leadership, and interpersonal relationships, all affect the individual employee's ultimate performance.

At an organizational level, only excellent teams can provide a sustainable advantage in the face of fierce competition. However, teams of various types face myriad development issues such as vague visions, barriers to communication, and lack of trust.

In response, Dongfeng Nissan University planned and implemented the "Team Oscar Real Team Training Camp" in 2016, inviting real business teams to participate. The team leader was committed to helping the team to establish their vision, integrate and solve crucial issues to improve team performance.
Participants
The first phase of the project included 20 business teams from six fields (including R&D, procurement, manufacturing, marketing and finance etc.) totalling more than 160 participants. They participated in the training of Oscar camps for over seven months. All participating teams were real working teams of six to 10 members, and were the teams nominated for development in each business department.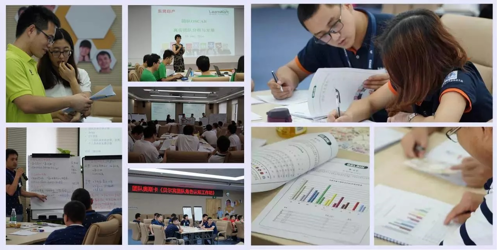 Project process
The Oscar teams focussed on the two core elements of "team development" and "problem solving". The process integrated six learning modules – including team knowledge, team obstacles, team roles, and team management – with a rich and varied selection of practical training activities designed to consolidate learning. The program used numerous training techniques, including the use of team competitions, flipping classrooms, workshops, management salons, coaching, team assessment, experiential learning and other comprehensive training techniques to enrich the participant experience and enhance training results.
During the implementation of the project, the group placed special emphasis on the organic integration of training and business. For each training module, the corresponding practical tasks were arranged and implemented, culminating in a series of results with practical value, such as:
Identifying the team's vision;
Deriving a declaration of trust within the team;
Drafting up a contract regarding conflict;
Summarising the team's goals;
Devising an action plan to implement changes.
Introducing Belbin Discovery Tour
The Oscar teams conducted a series of training activities around the Belbin Team Role module, including online micro-learning, Team Role evaluation, and Team Role workshops. These were designed to help the twenty Oscar teams:
Understand team members' respective Team Role contributions;
Analyse the team's overall behavioural characteristics;
Explore how to further develop individuals;
Create efficient teams.
Team Role theory is an unfamiliar concept for most participants. The training camp leaders sought to help them gain a basic understand quickly via offline workshops. To achieve this, they adopted the "flipping classroom" learning method. Teachers shared the basics of the nine Team Role behaviours in "WeChat" group micro-classes in advance, and used additional time to help students with their understanding. It was the first time the students had tried this new way of learning, and the new technique was met with enthusiasm by participants.
In order to help consolidate participants' learning, the Oscar team leaders arranged for everyone to participate in the Belbin Team Role assessment. In order to ensure the integrity and objectivity of the results, the Belbin assessment uses a combination of self-reporting and peer feedback. Each participant obtained a complete report which integrated both aspects.
The offline workshop focussed primarily on "team interaction". Under the guidance of two teachers, the session looked revolves at the interpretation of Belbin Reports and the distribution of Team Roles within a given team. Each team conducted rich and in-depth discussions, with the Reports sparking interesting avenues for further analysis and development.
From these one-day workshops, the trainees gained an in-depth understanding of their own behavioural characteristics and how to use their strengths to contribute most effectively to the team, co-operate with others, and mitigate any potential shortcomings associated with their behaviours. Individuals and teams left with an enhanced understanding of the status quo of the team (with a clear definition of its strengths and weaknesses) and a strategy for moving towards more effective working practices based on this new information.
Project Outcome
The Oscar training camp's innovative team training model enhances team cohesion by focusing on team vision, declaring trust and finding constructive means to address conflict. Through scientific project design, meticulous operation, and full participation of all training teams, the project helps business teams to:
Define their vision;
Promote team integration;
Solve business issues which might otherwise prove detrimental to business practice;
Produce rich, practical results;
Promote individual excellence and improve team performance.
In 2017, Dongfeng Nissan University went on to launch an upgraded version of Oscar for a second cohort, to further popularize team development theory and knowledge and help more teams to improve effectiveness and performance. In the second cohort, nine teams in nine areas joined the training camp. All teams shared their results and identified the changes that Belbin had brought to their team.
Feedback
Before the training started, we received our Belbin Team Role reports, prepared by the Ministry of Personnel. After receiving the report, everyone was surprised at the accuracy of the results. The report provides detailed and in-depth feedback on the roles and development of individuals in the team. Belbin team training is a mirror which allows us to recognize the status of the team. The learning and thinking in training allowed us to apply these findings to real team building and work to develop of team performance. Careful analysis of the team allows us to face the problems in the team and realize the importance of maximizing the benefits of the team.
– The Electric Vehicle Marketing Division of Kai Chen Division
The Oscar team program's Belbin Team Role analysis and training course is a step closer to understanding our own path. It analyses your Team Roles through self-evaluation and 4-8 peer feedback assessments. The report outlines differences between self-assessment and peer assessment, and breaks down each person's role contributions into preferred, manageable and least preferred categories. The report is very comprehensive, meticulous and accurate. I feel fortunate to have participated in the Oscar program and to have received the Belbin assessment, as an opportunity to discover new things about myself.
- Finance and Accounting Department Cope Kugan
Would you like to discuss how your company can replicate the success of Dongfeng Nissan University? Please contact us to find out more!

[email protected]

| 01223 264975