There are plenty of tools that measure personality. They ask questions that help us find out who we are; what makes us tick.

The output is produced using just one input. Yours.
Belbin doesn't measure personality. It measures behaviour in the workplace.
There are two factors to note:

Firstly – behaviour is different to personality. Belbin measures what you do, not who you are.
Secondly – Belbin measures what you do in the workplace. Not when you are out with friends or at home with the family, but at work.
As Belbin measures what we do in the workplace (and by do we mean the ways in which we interrelate and interact with others), it is naive to think that we have all the answers.  This is why it is important to ask others for their feedback.
There can be many reasons why relying on self-reporting – how I see myself – is only half the story. Individuals might have limited self-awareness; they may want to be seen in a certain way – to fit in for example; they may have unrealistic expectations...
The only way to 'validate' self-reporting is by asking for feedback from others.
Who is an ideal Observer?
Someone you work with on a regular basis – NOT a family member or a friend. Someone who will be honest with their feedback – i.e. someone who will feed back the positives and negatives (we all have them!). You need to have worked with someone for at least 3 months. After all, it takes a while to find the real you!
As we don't want the output, the Belbin Reports, to show bias, we ask that people get feedback from a minimum of 4 Observers. An ideal number is 6.
What is involved?
Once an individual has completed the Self-Perception Inventory (SPI) a Belbin Report is generated. They then nominate up to 6 Observers and send them an email. This email contains a link to the Observer Assessment (OA) which is a list of words which link to each of the Team Roles. As each Belbin Team Role has strengths and corresponding weaknesses, the list is split in to two sections - List A and List B.
The Observers tick the words that they feel apply. They should be able to tick words from both List A and List B.
Once all the Observers have completed their OA, a new Belbin Report can be generated. This one is more in-depth as it takes all of the Observer responses into account.
How much do the Observer Assessments cost?
Nothing. They are included within the price of the Belbin Individual Report.
Why? Because they add so much value to the report. Belbin isn't really Belbin without them.    

Downloads:

This shows the words that the Observers are asked to tick.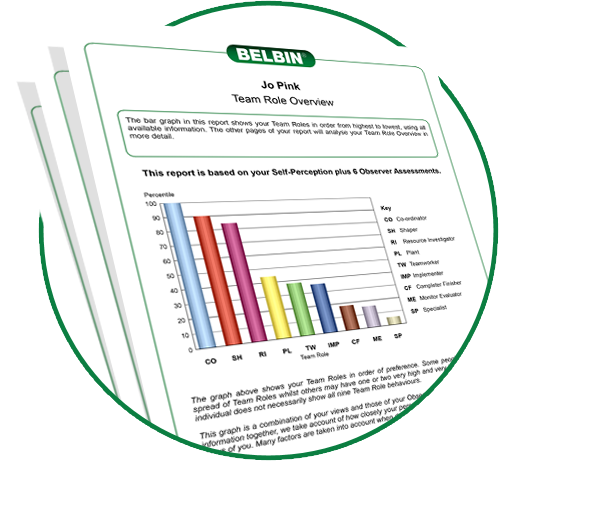 This shows the detail included in the Report before the feedback from Observers has been added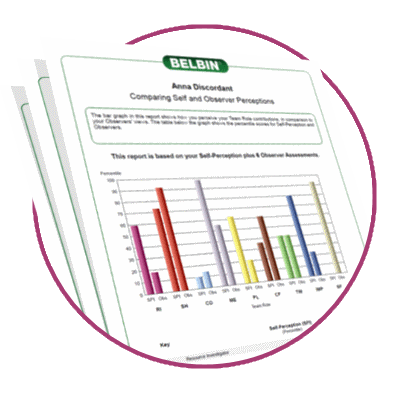 A sample Full Belbin Individual Report. This takes in to account the Self-Perception Input and the Observer Assessments. This Report shows where an individual has differences in how they perceive themselves compared to how others see them